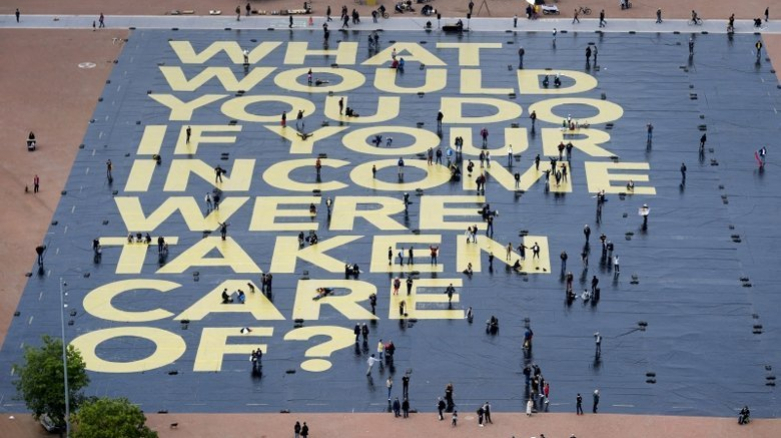 By Tina Agrell, Oakville NDP Vice President
We were welcomed by Leena Sharma Seth of the Halton Poverty Roundtable who introduced Tim Ellis of the Basic income Canada Network and David Larocque of the Poverty Reduction Strategy Office, Province of Ontario.
Tim spoke about the discussion paper by Senator Hugh Segal, in which he recommends a Basic Income Pilot Project to test replacing the broad policing, control and monitoring now present in Ontario Works and Ontario Disability Support program with a modestly more generous Basic Income, disbursed automatically to those living beneath a certain income threshold. The goal would be to eliminate poverty, not just reduce it.
Segal suggests that the pilot will discover whether Basic Income will reduce poverty more effectively, encourage work, reduce stigmatization and produce better health outcomes and better life chances for recipients. The study should be structured to test the impacts of basic income on the net fiscal position of the Province, on labour market/work behaviours, on health and educational outcomes for recipients, on food security, on mobility and housing and on net economic and community outcomes in targeted areas.
Segal argues that the Pilot Project should be managed by a not for profit research organization, university based and free-standing. There should be an advisory group of 35 individuals with lived experience of poverty and a research operations group who would design and run the project. A small steering committee would meet regularly to oversee progress. This would include an ethics advisor and a financial officer.
David explained that there is a "place holder" of $25 million a year in the provincial budget to cover this study. The consultation will be complete by the end of January and planning stage should be complete by April 2017, after which a minimum three-year pilot study in four selected areas would be conducted. At least one of the areas would be on First Nations land. Segal recommends that progress of the pilot study should be made public at frequent intervals.
There was a deluge of questions and comments from participants.
Ted from Community Development Halton read an Emergency Resolution calling for the Government of Ontario immediately to raise the Ontario Works rate for a single individual to $1320 per month and raise ODSP rates by at least $500 per month. This resolution is put forward by many local agencies and unions and is a response to the first Basic Income consultation held recently in Hamilton.
Participants were then asked to discuss in small groups their responses to some or all research questions relating to the proposed Pilot. There was a general feeling that there was no need for further study, that the Dauphin Study in Manitoba in the 1970s had clearly demonstrated the efficacy of the basic income approach and that the Provincial Government should just get on with implementing Basic Income forthwith. However, it was pointed out that there may be many factors that may influence the effectiveness of this approach and a pilot study would reveal these and help the Province to "do it right".
Leena urged participants to respond so that she could collate and send in comments. People asked if they could e-mail comments. They have until January 31, 2017 and can do so at www.ontario.ca/basicincome
Questions to be discussed were:
Who?
1A) Should people for the Pilot be chosen based on broad criteria (e.g. age, area of residency) or based on specific needs (e.g. single parent, under-employed, newcomer to Canada)?
1B) Should participation in the Pilot be based on a single person's income or be determined by total family income?
Where?
2A) What are the important things to think of when choosing pilot locations (e.g. urban/rural, population size, local employers), and why?
2B) How should pilot locations be chosen (e.g. random application by community?)
2C) Should the government start in one location and add more later?
2D) Should Pilot locations be chosen to measure changes in a single person or changes to a whole community?
How Much?
3A) Should the Basic Income amount be high enough to get people out of poverty or should it provide a modest amount of income to go with earnings and other benefits?
3B) If Basic income replaces Ontario Works and ODSP, should it also replace other benefits? Which ones?
3C) Beyond money, what other important services and supports are needed to go with Basic Income?
3D) What else should be considered when determining the basic Income amount?
How to Pay/Deliver
4A) Should Basic Income be designed as a Negative Income tax? If No, what model would be better?
4B) Should the Pilot be provided outside of the income tax system?
4C) How should the Basic income respond to changes in someone's income?
Outcomes
5A) The discussion paper recommends measuring ten key areas. Rank these in order of importance
Health,
Life Choices,
Education,
Work behaviour,
Community-level changes,
Administrative efficiency (compared to social assistance)
Food insecurity,
Perception of citizenship and social inclusion,
Housing stability and quality,
Interactions between basic Income and other benefits such as the Ontario Child Benefit
5B) What changes would you need to see in key areas in question 5A to call the Pilot a success?
5C) Should information related to the pilot be made public on an ongoing basis?